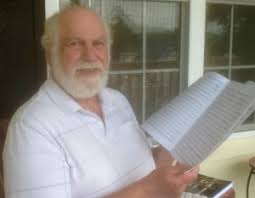 David Bobrowitz (b. February 21, 1945) is an American composer who has written and published over 240 works, including pieces for concert band, string orchestra and chorus. He has published works with Grand Mesa, Neil A. Kjos, Wingert-Jones, Ludgwig Masters, FJH, Daehn Publications, Carl Fischer, Hafabra Music, Southern Music, Belwin, Kendor Music, William Allen, Lawson-Gould, Walton Music, Gary Gilroy Publications, Excelcia Music Publishing and Eighth Note Publications.
He worked as a music educator for the Great Neck Public School System from 1970-2000. In that capacity, he taught band, orchestra, string orchestra and jazz band for 30 years, and served as department chair for 25 years. As a performer, he has worked as pianist, bass trombonist and baritonist.
Bobrowitz was born in Brooklyn, NY the son of a Julliard School graduate, pianist Thelma Aronoff Bobrowitz and Dr. I.D. Bobrowitz. Having the good fortune to meet composer/arranger Robert Russell Bennett at the age of fifteen, he studied composition and orchestration with Mr. Bennett for the next six years. He did additional composition studies with Nicholas Flagello and Ludmilla Uhlela and trombone studies with Simon Karasick and Jack Elliot. Bobrowitz earned a Bachelor of Science Degree in 1967 from The Mannes College of Music and a Masters of Arts in 1968 from Teachers College, Columbia University.
As a composer, Bobrowitz had his first major success with the choral work The Creation (A Rock Cantata), which he co-wrote with Steven Porter. Subsequently, The Creation was toured nationally by The Norman Luboff Choir and published by Mr. Luboff's company, Walton Music, in 1970. This work remains a popular and standard work for choirs from around the world, even 50 years after its first performance.
As a band and orchestra composer, he has written or arranged works for all different levels of difficulty ranging from elementary through professional. His music often incorporates a wide range of styles and sometimes incorporates folk music from different countries. He has done commissions for schools, community bands and music fraternities. His music has been performed and recorded world wide.